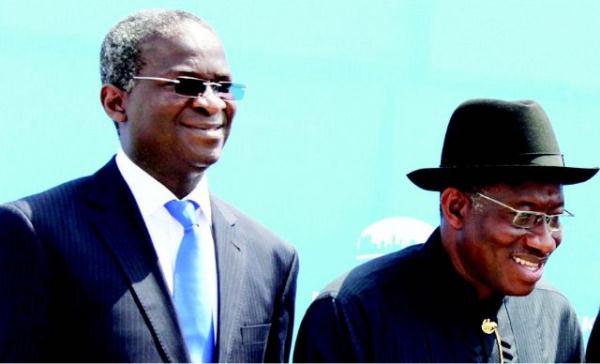 Governor Babatunde Fashola of Lagos State, Saturday, took a swipe at President Goodluck Jonathan and his vice, Namadi Sambo, saying despite their high academic qualification,
they have been unable to introduce policies that have direct positive impact on the lives of the people.
He, therefore, said, "We need someone who could address our challenges."
Fashola said this in Ikorodu town, Lagos, in continuation of electioneering campaigns of the party for next month's general elections, lamenting that that the country has
failed to progress despite their high academic qualification.
According to him, "We prayed that if we have someone who has degree, he will be able to develop the country. And when the current President a Ph.d holder assumed office, we rejoiced that the country will improve. Rather than implement policies that would improve the standard of living of citizens, we were having regression.
"Also, his Vice-President is an architect but he cannot construct road. But a lawyer is the commissioner for works in Edo State and he has constructed several roads. In Ogun State, the commissioner for works is an architect and he has built several roads.
"So, let's ask Sambo, the vice president what has he done for the nation since he assumed office. All he (Sambo) could do was to inform the president that people are leaving Lagos because of the state's tax regime. And I want
everyone to ask the Vice President if the number of vehicles coming into Lagos has reduced," he added.
Fashola noted that lack of governance experience exhibited by the President and his Vice could also be seen in all the candidates presented by the People's Democratic
Party, PDP for the 2015 elections.
He said "For instance, their Governorship candidate in Lagos State, Mr. Jimi Agbaje is displaying his inexperience and ignorance on government budget with his recent
comment on budget allocation for education in Lagos."
Agbaje had at the third edition of the gubernatorial debate organised by the Diocese of Lagos West, Anglican Communion (Church of Nigeria), Ikeja said that the state government spends 3 percent of its budget on primary education.
Governor Fashola in a reaction to that continued, "With this comment, he does not have knowledge on finance issues. If he listened to my budget
speech, I said that we increased budget for education from 15 percent to 16.8 percent. I also explained that the 16.8 percent is
not the entire budget for education. But fund for some of the education programmes were left with the ministry that was saddled with such responsibility in the state."
The Governor explained "We do de-worming and school milk programme but the fund for such was left with the
ministry of education. We do refuse collection across all the
schools and the fund for such was left in the purse of the ministry of environment. We repair desk and maintained schools the budget is
in ministry of works.