A desperate single mother said she inserted parcels of heroin into her private part and ingested others because she needed money to pay her house rent and pay her kid's school fees.
The 31-year-old lady, Aladi Onyinye Juliet, who was arrested at the Murtala Mohammed International Airport, Lagos by operatives of the National Drug Law Enforcement Agency during the inward screening of passengers on an Emirate flight, said she took to drug trafficking to settle her bills. Juliet said some Pakistanis gave the drugs to her.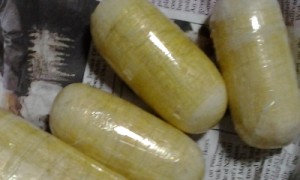 The suspect said she established link with some Pakistani drug traffickers who sponsored her trip in collaboration with some local accomplices. Juliet added: "I'm a single mother and I need money to take care of myself and child. I used to sell clothes but the profit is inadequate to sustain my family.
I would have earned half a million naira to pay for my rent and my child's school fees if I had succeeded in bringing the drug. They paid for my return ticket and hotel accommodation.
the drugs found on aladi onyinye juliet copy
While in my hotel room, a Pakistani woman came to give me the drug. She also instructed me to conceal it in my private part to avoid arrest. Unfortunately, the NDLEA officers detected it." The drugs concealed are 430 grammes. The NDLEA commander at the Lagos airport, Hamza Umar, while commenting on the incident, said the arrest was facilitated with the aid of scanning machines. Umar said:
"During the inward screening of Emirate passengers, one Aladi Onyinye Juliet tested positive for narcotic ingestion. While under observation, the drug was subsequently expelled, field-tested and weighed." The Chairman of the Agency, Ahmadu Giade, said the NDLEA will continue to detect narcotics with the help of technological tools. Giade said: "The NDLEA is investing in capacity building and modern equipment in drug detection. We hope to dislodge drug trafficking cartels through superior intelligence and best global practices. Investigation is on-going to arrest other members of the drug cartel connected to her case."