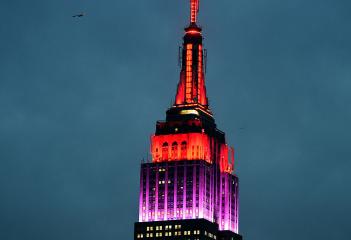 Several activities were lined up all over the world on Tuesday as the world marked the anniversary of the missing school girls who were abducted by Boko Haram in Chibok, a town in Borno State.
New York's Empire State building was lit up in red and purple Tuesday in honor of more than 200 Nigerian girls kidnapped by Boko Haram militants one year ago.
The edifice was to remain illuminated until 2:00 am (0600 GMT), a nod to the number of girls who remain missing.